This Christmas weekend was outstanding and just what I needed. As I constantly run my legs off in Tampa, it has been so incredibly nice to sit around the house in sweatpants and a sweatshirt and spend time with family doing what we love: chatting, watching football, and playing on our computers. That really sums up an amazing weekend.
I am lucky that I was able to have my boyfriend with my family for the first week of being home, and he loved being here as much as my family loved having him. We exchanged gifts the 23rd, since he was heading back to Tampa on the morning of the 24th. It was fun because not only did we exchanged gifts but he also exchanged gifts with all members of my family. From all of us, he racked up with some Lacoste shirts, Sperry topsiders, new earphones, Ole Miss shorts, Florida shorts, new sunglasses, and a stocking full of goodies. From him, I lucked out with a new Pottery Barn blanket, my favorite
perfume
in the whole world, an anthropologie shirt, gold snakeskin Tory Burch Reva ballet flats that I picked out
here
, and a pair of Kate Spade sandals he picked out himself. I am so lucky and so spoiled.
For Christmas eve, we went to my great aunt's house for our annual tradition. It was really nice this year, and I had fun playing with my cousin's two year old, Attickus. I walked out of the white elephant exchange with two Christmas serving dishes. As I'm obsessed with Christmas decorations, I was super excited!
Christmas morning is always exciting in our house. My sister and I since we were little have always vowed not to peek at the presents until we literally walk downstairs to open them. It was so much fun this year. Mom, Dad, and Grandma opened first, we ate breakfast, then Kacey and I opened. Because we didn't start until nearly 11 o'clock, it was fun to finish in the afternoon! We all got so many nice gifts. Kacey and I got mom a Michele watch and longchamp bag among other things; we got dad an iPhone, some Alabama shirts, and a DVD. And I got a lot of great clothes, some shoes, some dishes, and a Staub pot. This is what I was really hoping I would get.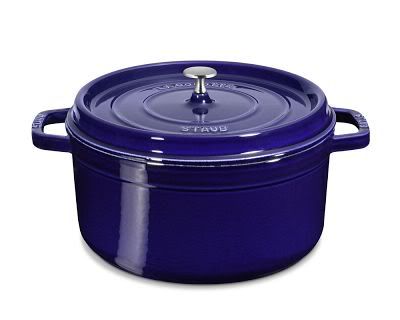 Baxter got two gifts too, and he was really excited about it.
The mos exciting part of Christmas weekend was the fact that it was a white one! We haven't had a white Christmas since 1989, when I was four years old. After presents and family time, my sister and I went outside and played, built snowmen, and threw snowballs. We actually had 6", so we all had fun playing!
It was fun for that day, but when we couldn't get out of our steep driveway (we live on a mountain in Tennessee) until Monday afternoon, we got a little tired of the snow.
I've had fun looking around at all of your Christmas pictures and Christmas stories. I can't wait for 2011 and all that it has in store, and I'll post about some new personal goals I have for myself in the new year soon!