When I started blogging I had no idea how much pleasure it would give me to do this everyday. I love getting comment emails, finding new blogs to follow, and interacting with bloggers on a regular basis. It's just so much fun.
I've hit two exciting blogger milestones. I hit 100 followers a few weeks ago, and this is my 100th blog post! I'm celebrating by hosting a giveaway of two things that will tell you a little bit more about me!
1. The first item is The Medina Bib from
Stella & Dot
. It's the most popular item of the spring line so far!
I'm a Stella & Dot stylist, and I absolutely love Africa and African inspired jewelry (such as this).
2. A $25 gift card to Dunkin Donuts or Target (your choice if you win)!
If you've been reading my blog a while, you know I'm obsessed with Dunkin Donuts. I love Target almost as much. I know if you're like me $25 to Target will only get you half of what you end up purchasing.
The giveaway will close in two weeks. March 8th at midnight will be the last day to enter, and then I'll announce the two winners March 9th!
Here's how to enter. Leave a separate comment for each entry:
Mandatory:
1. Follow my blog with GFC and leave a comment telling me you do! (1 entry)
Extras
:
2. Follow me on twitter @
lttlegrlbigwrld
and leave me your twitter name (2 entries)
3. Tweet about the giveaway with a link to this post. (2 entries)
You can use this if you want:
@lttlegrlbigwrld is having a fun favorites giveaway http://bit.ly/h4Rf40!
4. Blog about this giveaway and leave a link to the post (5 entries)
5. Put this button in your sidebar until the drawing (10 entries)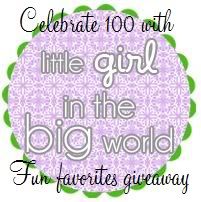 Yay! Can't wait to pick two winners in two weeks!