The topic for today's thankful link-up is supposed to be why I'm thankful for YouTube.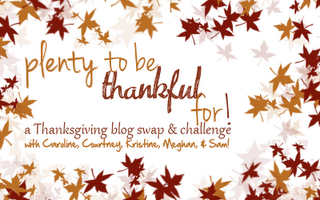 But I'm going to hijack it a little bit and put my own spin on this topic (is that okay Meghan?).
I'm not a huge YouTuber, but what I do want to share with you comes from YouTube, so it counts!
On Monday, I found a few bloggers talking about the exciting release of the official Hunger Games trailer, and I'm one of the hooked ones.
I swallowed this book whole, and
I wrote a review about it
. It's the fastest read, and because it's a young adult book it doesn't require a whole lot of thinking. I promise you that you won't regret it. My mom and sister read it after me and loved it, and you'll absolutely want to read it before you see the movie in March.
Now, for you die-hards, there is one thing in the trailer that I believe is different than the book. Can you spot it? Or is it portraying a different part of the book than I'm thinking of? Leave me a comment if you notice.
I'm super thankful that someone got me started on these books, and I'm super excited that they are now coming out in movie form. I just hope they're as amazing as the books.
Follow on pinterest
Follow on twitter