I have no idea where May went. If you checked my blog more than a few times, you noticed that I've been MIA. I needed a little blogging break, and I just forgot to tell you all that I was taking one.
Here is the Go for the Goal linkup with Lori and Meghan. Linkup below with your monthly goals!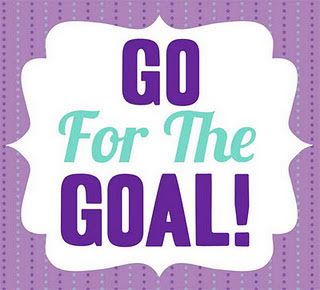 May goal recap:
1. PR in the 5 miler I'm running next weekend.
I did indeed PR! Woohoo! I ran it in 41:06 at around an 8:05 per mile pace. That's my fastest pace by a long shot. It did hurt a little though.
2. Follow through with the Tone It Up Plan until my dress fitting June 6th.
I've not really been the best about being strict on this plan, but I've absolutely continued not eating a lot and eating healthy...
3. Lose AT LEAST 5 more pounds.
Do

ne!

I think I can finally tell you what I weigh and be okay with it. I started in November at 162 and stepped on the scale Tuesday morning at 146.5. I've lost 15.5 pounds since November. I'm ple

ased with that.

I'm up a little after taking a few more rest days from the gym, but I'll get it back down.
4. Save $500.
Big fat fail. I didn't save anything. That stings to say, but with all the wedding shopping, bachelorette weekending, and other exciting stuff I haven't saved money this month. Wow. It hurts more to admit it than I thought. It makes me really want to get back at it this month.
5. Post on my blog at least 3 times a week.
Oh you know that's a big fail...oops.
6. Continue working out 5-6 times per week for at least an hour.
Done and done! If I didn't workout 5-6 times I did end up working out for over 5-6 hours. Most days I go to the gym I end up working out for 1.5-2 hours.
June Goals:
1. Save $600. Really.
2.
Find a rehearsal dinner dress.
3. Get down to 143 in weight (Note to self: I weighed 148 this morning).
4. Workout 5 days per week every single week

.
5. Take over 100 pictures in Chicago.
6. Blog every weekday.
7. Have one giveaway.
8. Create a music list for the wedding.
What are your June goals? How were your May goals? Linkup below!
Like my page on Facebook
Follow on pinterest
Follow on twitter