Happy Friday!
I wanted to share some letters today with Ashley.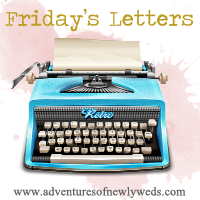 Dear summer vacation,
Dear 2012-2013 school year,
I can only imagine what you've got in store this year. I'm going to make it the best one yet. It'll be my fifth year at the same school, and I'm so pleased with where I am and what I do on a daily basis. What can I do to make it the best?
Dear Tim,
Thank you for taking care of me the last week and a half. I know it's been a big rough at times, but it's really nice to know that when I need someone, you're in my corner. I'm glad that in everything we face I'll have you on my side. I'm glad you have your room all setup and can enjoy it before your classes start on Monday.
Dear wedding photographer,
You don't know that I snoop on your Smugmug site almost daily and found that you had uploaded the first few from our big day. They're AMAZING and I cannot wait to see the rest and actually tell you that I love them.
Dear fall,
I was really frustrated with you when people started wanting you to come around in early July, but I can now say that I'm ready. Between Halloween and Thanksgiving, fall dress, candles, and sweet treats, bring it on!
Source:
homeandgardenblog.com
via
meghan
on
Pinterest
Source:
myblessedlife.net
via
meghan
on
Pinterest
Dear online shopping,
It's been a while, and truthfully it needs to be quite a while longer. But if I'm going to be able to recreate some of these Pinterest looks I've been pinning lately I'm really going to need a pencil skirt, a blazer, and some skinny and ankle pants. Are there fall sales? Did I miss them while I was taking my hiatus?
Dear friends,
I'm getting back at it! I've been reading and commenting again, and I'm so happy to hear about your summer trips and big events. If I've missed any big news (or even if I haven't and you're just celebrating) like an engagement, big birthday, or a baby, will you let me know!? I love celebrating with you.
What are you doing this weekend?!
I'm getting my life back in order before the kids come on Tuesday. This 4-6 week recovery is going to have to be cut short...I'll just be taking it easy while getting back at it.