Dear Tim, three weeks from tomorrow. What am I forgetting? I am so excited!
Dear Shawn, sorry I left the gym and didn't come to your BodyCombat class. I wanted to get 6 miles in and then did another mile speed walking. I didn't have it in me for your torture today.
Dear Target, why did you have so many cute dresses today? Although that was maddening you did help me complete my honeymoon shopping I think.
Dear
Molly
, your baubles are coming...I wanted to get the perfect thing(s). I promise they'll be worth the wait.
Dear wedding dress, thank you for fitting today. I celebrated with Chick-fil-a. See you July 20th!
Dear
BaubleBar
necklaces, you're big! It was surprising. I need to find an outfit to try you on with.
Dear new readers, say hi please! And tell me something about yourself!
Dear payday, I'm so excited you've come, because I've been dying to see how much I'm getting paid for these summer commitments!
And lastly, dear everyone, why not link up with Lori, Meghan, and me for our
monthly goal linkup
? We're posting it Monday July 2!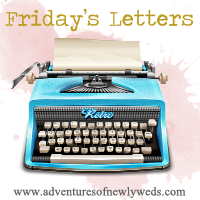 Like my page on Facebook
Follow on pinterest
Follow on twitter